Route 56 Matat
Bike Adventures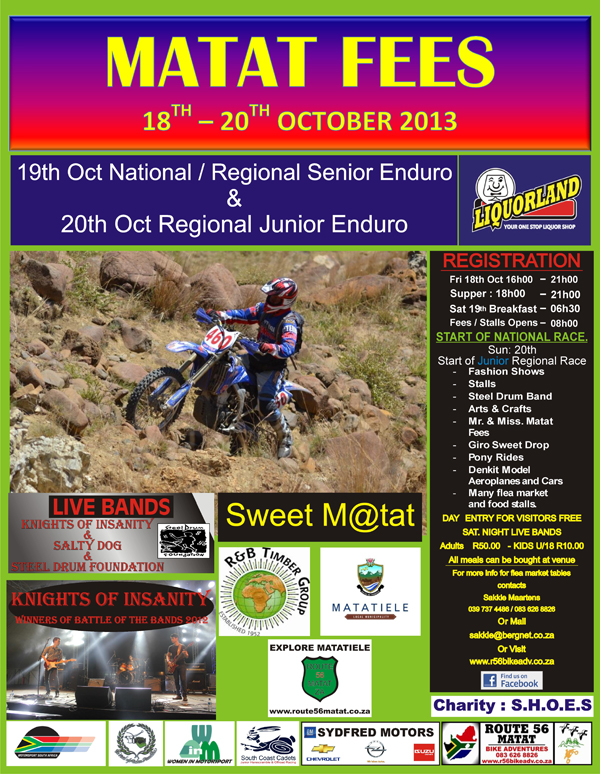 Offers
QUALITY TAILOR MADE GUIDED ADVENTURE BIKE TOURS
Where to:
Day Trips to Ongeluks Nek, Rhodes, Transkei Wild Coast and Lesotho
Type of Terrain:
Tar, Gravel, leep Tracks-Pillion Riders Welcome
Passports Required when visiting Lesotho
Points of interest-3 Border Post Crossing into Lesotho
-Lesotho Lake Letsi
Orange River
Matibeng Pass 2941m which is 100m higher than Sani Pass
:- Tour the Foot of the Majestic 3 Sisters Mountain Range and Matat Mountain Lake.
:- Visit Rhodes Via Naudes Nek 2591m which is the Highest Pass in South Africa.
:- Visit Tena Heads- Highest 5 Star Lodge in S.A 2822m.
:- Visit Lesotho the one day ride on the Transkei Wild Coast!!! Yes I can.
:- Visit Waterfalls at the Wild Coast, Ride through Tea Plantation and visit the site where the ship Port Grosvenor sank. Resorts to visit Msikaba, Grosvenor, Lupatana and Port St. Johns stay at Luxuary Mboyti Hotel or Even Better stay Rustic Lupatana Beach Cottage The Hidden Gem on the Transkei Wild Coast.
Where else can you braai a Steak and Crayfish at the same time or catch a fish or two?
For more info contact Sakkie Maartens- 083 626 8826
sakkie@bergnet.co.za